Flying Monkey Craft Brewery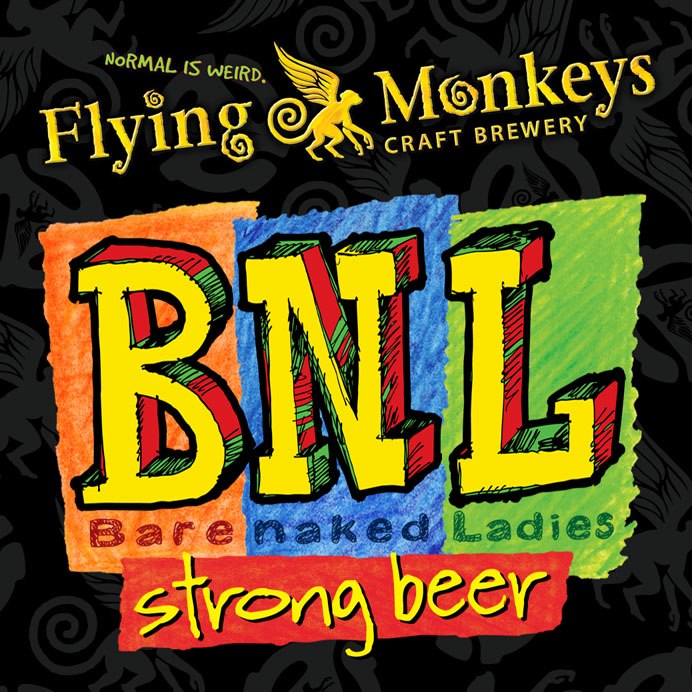 You know the phrase "It never hurts to ask?" Well that's what Flying Monkey's Founder Peter Chiodo found out recently. Chiodo reached out to rock band Bare Naked Ladies asking to brew a musical collaboration beer. As you can already deduce, they accepted and brewing commenced. The result is BNL Strong Beer.
BNL Strong Beer is a "fudge-y imperial chocolate stout" that's a solid 11% ABV. "They were totally involved in the birth of this beer. BNL member Kevin Hearn contributed some great original artwork for the beer's packaging —quirky, colourful, and perfectly Flying Monkeys — and the guys came to join us for an actual brew day."
Those American fans – I am going to have to disappoint you. The beer will only be available in Canada, coinciding with the band's new "Symphony Barenaked" tour.
Style: Imperial Stout (w/ Chocolate)
Availability: Bottles, Canada only
11% ABV
[PressRelease]
World's Hoppiest Beer?  2500 IBU's?  There will be some people who argue that 2500 IBUs is WAY, WAY outside the detectable bitterness range.  (130 is pushing it.)  Flying Monkeys Craft Brewery in Barrie, Ontario claims to have the hoppiest of the hoppy.   "Alpha-fornication"  as the beer is called, is made by  manipulating aggressive hop styles & the brewing process itself.
[quote style="boxed"]Highly creative and complex manipulation of the high alpha acid hop varieties, Warrior (17% AAU) and Centennial (11.5% AAU). A hop-steeped wort re-circulated through an additional "Hop Vorlauf" punches up the insane intensity of this brew to a stupefying 2500 IBUs. Keeping with the concepts of extreme brewing, the 13.3% ABV of Alpha-fornication adds bigness to this beer.[/quote]
Don't expect to see much of this beer (an imperial IPA, as if you had to ask.) Only 15 liters (just shy of 4 gallons) of Alpha-Fornication was kegged.  Only 6 bottles were even made.  Flying Monkeys calls this beer one of their 'Everest Experiments,' an obvious series of extreme beers.  Can't wait to see the price tag on this one.  <EdmontonJournal>