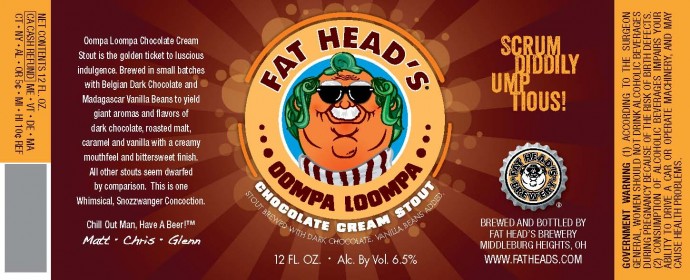 Want to drink like an Oompa Loompa? You will in February. Those little helpers at Fat Heads Brewery (Middleburg Heights, OH) will release Oompa Loompa Chocolate Cream Stout.  You can probably guess – this scrumdiddilyumptious beers is brewed with Belgian dark chocolate and Madagascar Vanilla Beans. Pleasing to those with both a sweet tooth, and a booze tooth. (Is that a thing?)
Oompa Loompa Chocolate Cream Stout is the golden ticket to luscious indulgence. Brewed in small batches with Belgian Dark Chocolate and  Madagascar Vanilla Beans to yield giant aromas and flavors of dark chocolate, roasted malt, caramel and vanilla with a creamy mouthfeel and bittersweet finish. All other stouts seem dwarfed by comparison. This is one
Whimsical, Snozzwanger Concoction.
Style: Milk Stout (w/ Chocolate, Vanilla Beans, Lactose)
Availability: 12oz bottles, Draft
Arrival: February, 2013
6.5% ABV