Double Mountain Brewery & Taproom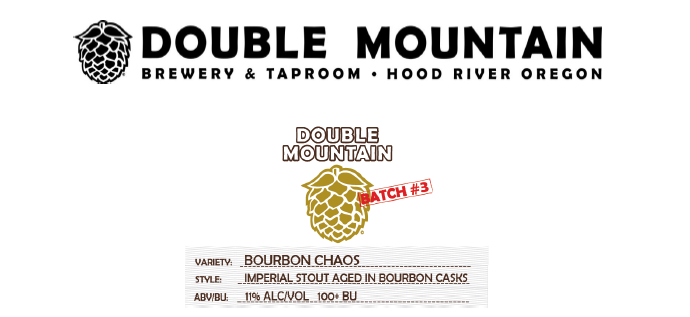 Double Mountain Bourbon Chaos is debuts this month, the third batch in the brewery's barrel-aged series.
The base beer for Double Mountain Bourbon Chaos is an Belgian-style imperial stout that has been tucked away in bourbon barrels for over a year. According to the brewery, the aging has biking this beer notes of vanilla, caramel, and molasses, with a touch of fig and blackberry in the finish.
"Sometimes it's best to put a beer to rest, forget about it for a year or so, and then bring it back to life. Well done, father time"- Matt Swihart, Double Mountain Brewmaster
Double Mountain Bourbon Chaos is available in the brewery's taprooms now in an unspecified bottle size, and throughout the northwest in early February, 2017.
Style: Belgian-style Imperial Stout (Barrel Aged. Bourbon)
Availability: Bottles
Debut: Late-January, 2017
11% ABV, 100+ IBUs