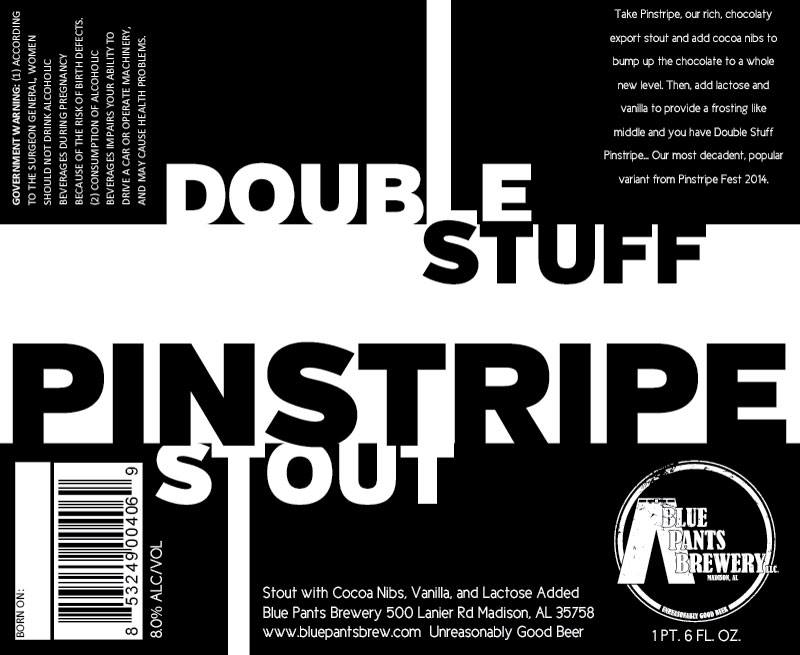 Blue Pants Brewery (Madison, AL) will soon release Double Stuff Pinstripe, a variant of their cold weather seasonal.
While Pinstripe is a coffee stout with hints of chocolate, Double Stuff Pinstripe features extra cocoa nibs to bump up the chocolate, and vanilla and lactose to boost the dessert-like flavor.
Take Pinstripe, our rich, chocolatey export stout and add cocoa nibs to bump up the chocolate to a whole new level. Then, add lactose and vanilla to provide a frosting like middle and you have Double Stuff Pinstripe. Are most decadent, popular variant from Pinstripe Fest 2014.
Blue Pants Double Stuff Pinstripe Stout will be available in 22oz bottles.
Style: Imperial Stout (w/ Coffee, Cocoa Nibs, Lactose, Vanilla Beans)
Availability: 22oz bottles
Arrival: TBA
8% ABV