Avery Brewing
Boulder, Colorado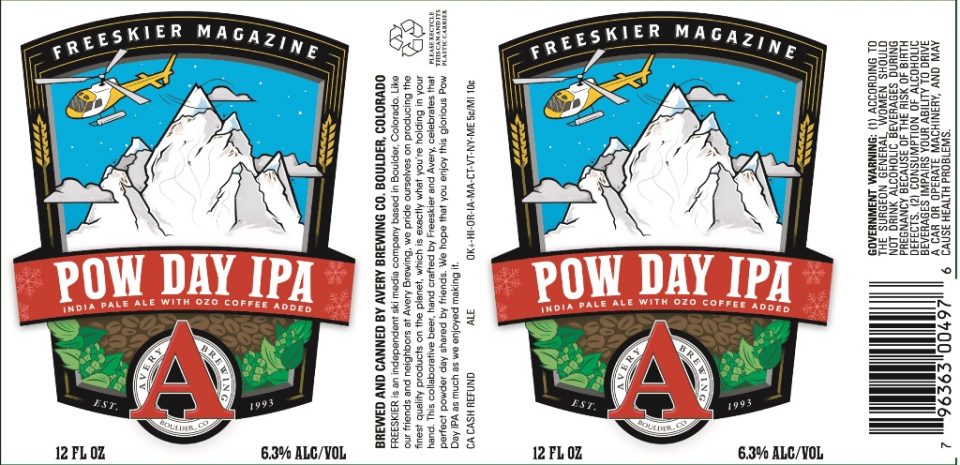 Avery Pow Day IPA in on the horizon in Boulder, Colorado. A collaboration with Freeskier Magazine.
Freeskier Magazine is a ski media company that is also based in Avery's home of Boulder, Colorado. Beer and skiing are two things Colorado does pretty damn well. Drinking beer and skiing should be a national pastime. Avery and Freeskier – good stuff.
Avery Pow Day IPA features coffee from Boulder based Ozo Coffee. Hoppy enough to get you going, coffee to keep you going.
Free skier is an independent ski media company based in Boulder, Colorado. Like our friends and neighbors at Avery Brewing, we pride ourselves on producing the finest quality products on the planet, which is exactly what you're holding in your hand. This collaborative beer, hand crafted by Freeskier & and Avery, celebrates that perfect powder day shared by friends. We hope that you enjoy this glorious Pow Day IPA as much as we enjoyed making it.
Avery Pow Day IPA is a draft and 12 ounce can offering. The beer can be found at Freeskier events throughout the winter, and in the Avery taproom while supplies last.
Style: IPA (w/ Coffee)
Hops: Simcoe, Chinook, Bravo
Malts: Two-row, Aromatic
Coffee: Organic Columbia Narino, Organic Honduras Las Capucas Omar Rodriguez
Availability: 12oz Cans, Draft.
Debut: September, 2016
6.3% ABV