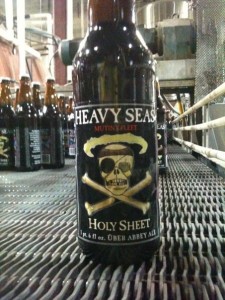 Heavy Seas Brewing in Baltimore, MD is bottling Holy Sheet! today.  Last year Holy Sheet got a promotion to bombers in the Mutiny Fleet.
According to their Facebook Page, today is bottling day.  As you can see by the pic, I'd assume that beer is pretty fresh.  Sheet is a Belgian strong dark ale.  Heavy Seas calls it  "Uber Abbey Ale."  My fond memories are drinking about 5 glasses of it on St Paddy's day a few years ago.  March 18th was magical.
Holy Sheet! is due out in March.  Cellars for 2 years.  Holy Sheet! We'll see you soon.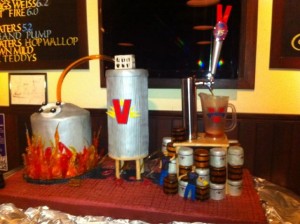 February 15th was Victory Brewing's 15th Anniversary.  What party isn't complete without a cake right?  This creation is the brainchild of Chef Lynn Tilyou of Victory Brewing Company.  The cake is a motion replica of the brewing process – from brewing to pitcher pouring.
The cake debuted on Monday at Victory's celebration.  It looks amazing. I bet it tasted even better.
Pic via @PhillyBeerScene