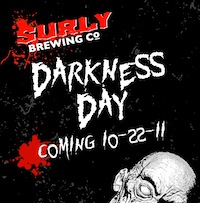 Get ready to fight off the masses to get your hands on some 2011 Surly Darkness!  Darkness Day will be Saturday, October 22nd from 11am – 5pm at Surly Brewing Co. in Brooklyn Center, MN.  1200 wristbands to purchase Darkness will be handed out prior to 11am.  Each person with a wristband will be permitted to purchase up to six 750ml bottles for $18 each.
Food and beer will be available.  12oz pours will be available for $4/each.  Everyone will be ID'd, must be 21 to purchase all beer.  CASH ONLY.  ATM's will be available.
There will also be live bands on stage and Surly Brewing Co. & Surly Darkness merchandise will be for sale.
Darkness will hit stores starting 10/31.