Topic Archives:
The Bruery Twelve Beers of Christmas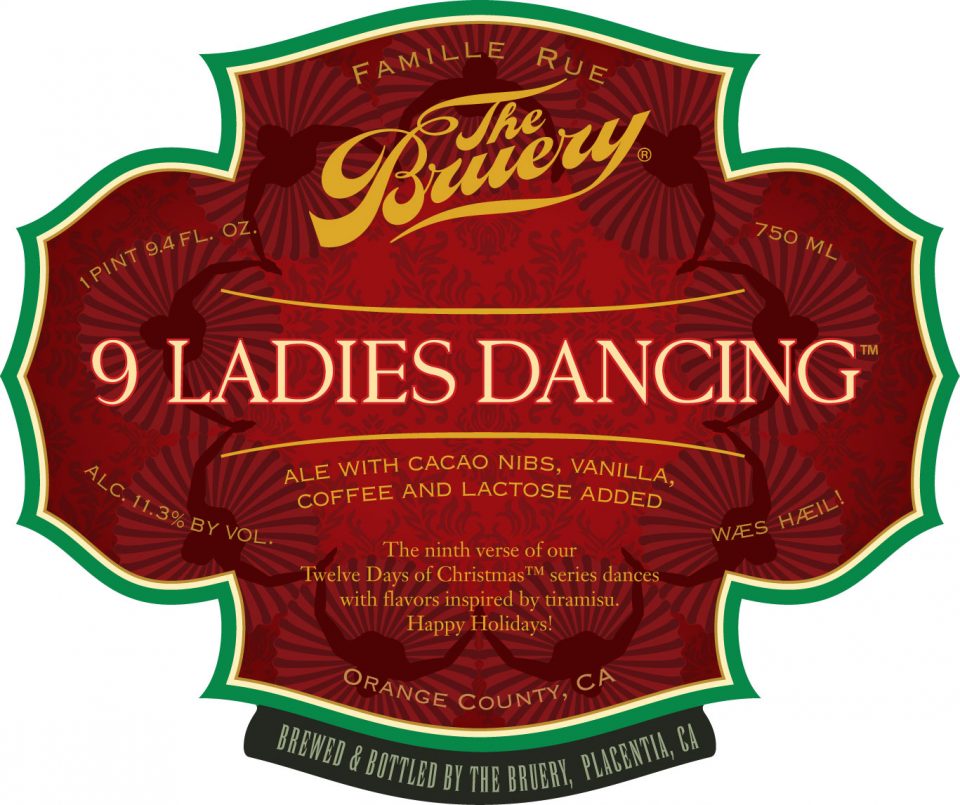 The Bruery 9 Ladies Dancing is officially the 9th edition of the brewery's on-going 12 Beers of Christmas.
Back in 2008, the Placentia, California based brewery launched the series with Partridge in a Pear Tree, a Belgian-style strong dark ale. If you try to buy that now, you might spend nearly $1,000 dollars trying to obtain it.
The idea is not only to celebrate Christmas, but also for the beers to be cellared until the completion of the series. Don't let that stop you from drinking any of them now, though. Life is short.
The Bruery 9 Ladies Dancing is inspired by tiramisu dessert. The base imperial milk stout is brewed with cacao nibs, vanilla and coffee.
Here's a pick me up for the latest verse in our "Twelve Days of Christmas" series. Inspired by flavors and ingredients found in tiramisu, including ladyfingers, 9 Ladies Dancing mimics the Italian dessert by whipping together flavor combinations and layers of its own. This includes notes of vanilla, chocolate and coffee – clearly the leading ladies in this rich, dessert-like beer.
The Bruery 9 Ladies Dancing will be a 750 milliliter bottle release staring in November, 2016.
Style: Imperial Milk Stout (w/ Vanilla Beans, Cacao Nibs, Coffee.)
Availability: 750ml Bottles, Draft. One-time Release.
Debut: November, 2016
11.3% ABV
The Bruery 8 Maids-A-Milking is the eighth verse of the brewery's "Twelve Beers of Christmas" series.
The 2015 verse is 8 Maids-a Milking, and if you haven't guessed the style yet, it's a milk stout. An 11.5% alcohol by volume milk stout to be exactly. Meant to be drank now, or cellared until the series completes in 2019.
8 Maids-A-Milking is suitable for aging up to four years (soon after the release of "Twelve Drummers Drumming") when cellared properly.
The Bruery 8 Maids-A-Milking is available in 750 milliliter bottles. Released in mid-October in the tap room, and headed to distribution towards the end of the month.
Style: Imperial Milk Stout
Availability: 750ml Bottles, Draft. One time release.
Arrival: October, 2015
11.5% ABV
The last seven years of releases in the series includes:
7 Swans-A-Swimming – Belgian-style quadrupel (2014)
6 Geese-A-Laying – Belgian-style Dark Ale, with cape gooseberries (2013)
5 Golden Rings – Golden Ale, with cinnamon, allspice, ginger, pineapple (2012)
4 Calling Birds – Belgian-style Dark Ale, with gingerbread spices (2011)
3 French Hens – Belgian-style Dark Ale, partial French oak aged (2010)
2 Turtles Doves – Belgian-style Dark/Porter Blend, with pecans and cocoa nibs (2009)
A Partridge in a Pear Tree – Belgian-style dark ale with candi sugar (2008)