Topic Archives:
Marshmallows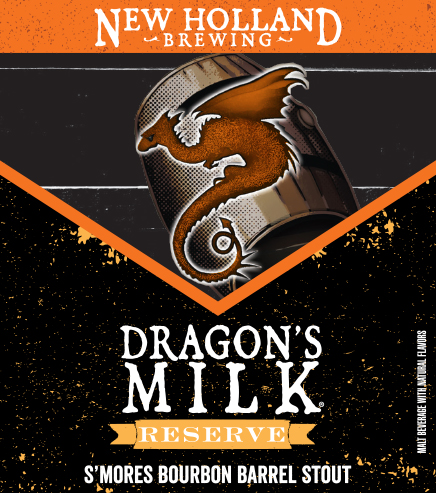 New Holland Dragon's Milk Reserve S'mores is coming to the coveted "Reserve" series in the near future.
By now, the Holland, Michigan based brewery's Dragon's Milk, an imperial stout aged in bourbon barrels, is pretty iconic. For years, New Holland has been releasing a year-round imperial stout, which has garnered a bit of a cult following. For many, a barrel-aged imperial stout knows no season.
Rewarding that love of big stouts, the brewery created the Dragon's Milk Reserve Series, a special series that takes Dragon's Milk to new heights. Entries into the series include the ridiculously tasty Coconut Rum, Vanilla Chai, and hitting shelves now – Mexican Spice Cake. Soon, your campfires can be enhanced by S'mores Dragon's Milk Reserve.
This future 11% alcohol by volume imperial stout boasts hints of toasted marshmallow and graham cracker (plus, it's aged in bourbon).
Hints of toasted marshmallow and graham cracker compliment the chocolate character of Dragon's Milk, giving this Reserve a flavor reminiscent of campfires and summer nights.
New Holland Dragon's Milk Reserve S'mores will be available in 12 ounce bottles and draft. The brewery has not yet announced this release.
Style: Imperial Stout (w/ Marshmallow, Graham Cracker. Barrel Aged. Bourbon.)
Availability: 12oz Bottles, Draft.
Debut: TBA
11% ABV
Terrapin Chubby Bunny is the both the 4th release in the brewery's employee brew-off series, and the 29th Side Project Release.
A few years ago, the Athens, Georgia based brewery decided to put their employees to the [brewing] test. Internally, members of the Terrapin Tribe split up and got fermentationally weird. At the staff end of year party, each team presents their recipe, proposed name (which half the time has to be changed to make the government happy), and a skit relative to the beer. Trust us, it gets pretty hilarious.
RELATED: Terrapin Side Project Series
This year's winning recipe is an imperial s'more milk stout, aka Terrapin Chubby Bunny. Inspired by the fireside favorite, Chubby features local Condor Chocolates, graham cracker, and marshmallows.
Chubby Bunny is our 4th installment of our employee home-brew competition. This Imperial milk stout breaks all the rules by combining flavors of graham cracker, toasted marshmallow and dark chocolate. This mouthful of a stout will challenge any beer lover to say "Chubby Bunny"
Previous employee brew-off releases include Pineapple Express, Saison Poivre, and Turtleneck.
Terrapin Chubby Bunny will be a 22 ounce bottle release in 2017.
Style: Imperial Milk Stout (w/ Lactose, Graham Cracker, Marshmallow, Chocolate)
Availability: 22oz Bottles, Draft.
Debut: Early 2017
9.3% ABV
The winning Terrapin employee team: Tim Fennimore, Kim Fraher, Stephan Fraher, Kelly Guglietta, Geoff Hammond, Bear Jordan, and Marth Sproull
Short's Brewing (Bel Aire, MI) is just days away from releasing Key Lime Pie 2012. The pie flavored treat is brewed with fresh limes, milk sugar, graham cracker, and marshmallow fluff. Short's literally recreated the pie flavor in a beer.
The prominent flavors are immensely sweet, yet tart, with subtle hints of graham cracker coming through in the nose.
The video below should tell you everything you need to know.
Style: Fruit Beer (w/ Graham Cracker, Marshmallow Fluff, Limes, Milk Sugar)
Availability: 12 oz bottles, Draft. Limited release.
5.75% ABV
2012 Short's Key Lime Pie Release from Short's Vimeo on Vimeo.