Topic Archives:
Chili Peppers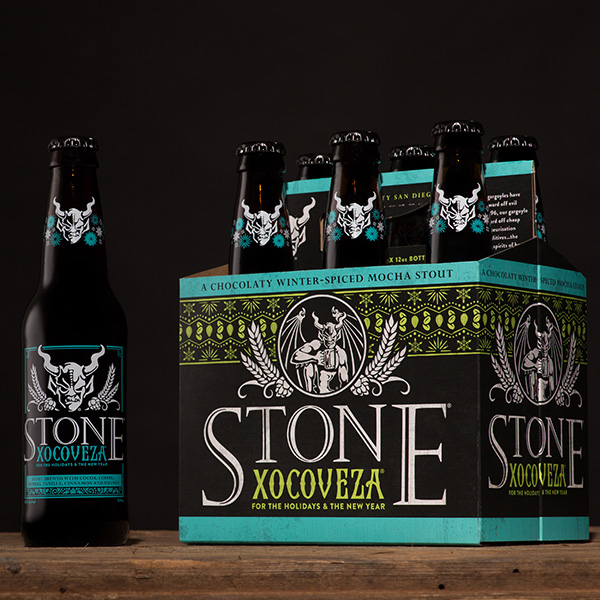 Stone Xocoveza Mocha Stout started as a collaboration with AHA Homebrewer Competition Winner, Chris Banker, and Mexican craft brewery Cerveceria Insurgente. Now the instant hit from the Escondido, California based brewery's collaboration series returns.
Stone Xocoveza Mocha Stout is built from a milk stout recipe, brewed with chocolate (from ChocoVivo), cinnamon, nutmeg, coffee (from Mostra Coffee) and chilies.
The brewery is now bringing it back as a limited winter seasonal release, with a slightly different moniker – Stone Xocoveza for the Holidays & the New Year. Officially shipping in 12 ounce bottles, and draft.
Style: Milk Stout (w/ Cinnamon, Nutmeg, Coffee, Chocolate, Chilies, Lactose)
Hops: English Challenger, English East Kent Golding
National Distribution: AK, AL, AZ, CA, CO, CT, DC, DE, FL, GA, IA, ID, IL, IN, KS, KY, LA, MA, MD, ME, MI, MN, MO, MT, NC, NE, NH, NJ, NM, NV, NY, OH, OR, PA, RI, SC, TN, TX, VA, VT, WA and Puerto Rico
International Distribution: Australia; Alberta and British Columbia, Canada; Hong Kong; Japan; Singapore; Korea; Sweden; and United Kingdom
Availability: 12oz Bottles, Draft
Return: 11/16/15
6% ABV