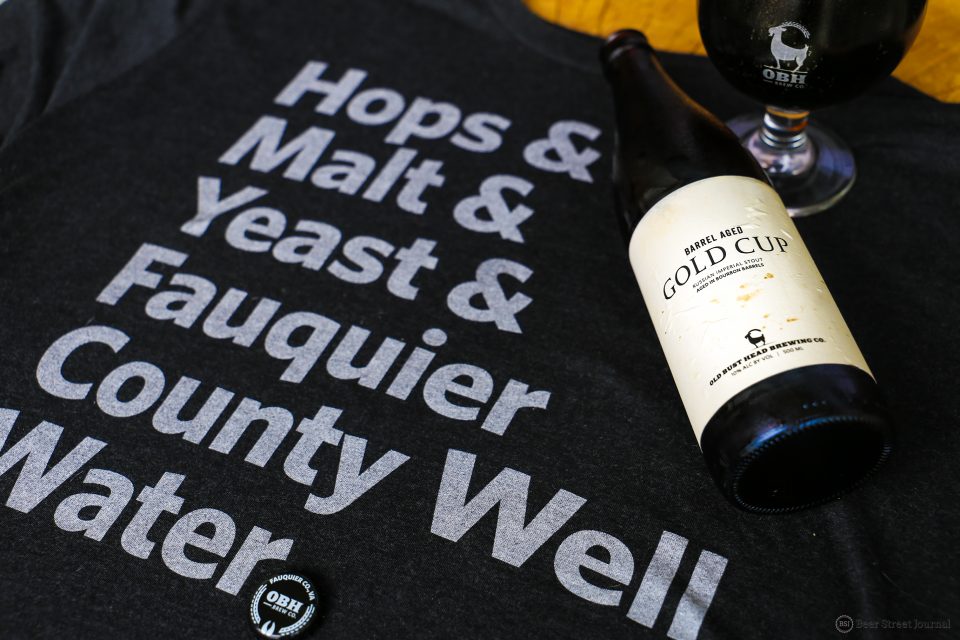 Old Bust Head Barrel Aged Gold Cup Imperial Stout returns on June 3rd – only the second time this beer has been bottled.
On a recent trip to Virginia we discovered Old Bust Brewing, tucked away the countryside of Vint Hill, Virginia. You'd think a brewery that seems off the beaten path would boast a standard lineup of IPAs and pale ales on tap. This is where we found Barrel Aged Gold Cup, and its badass lineup of variants.
The base Russian imperial stout is fantastic. Boozy, roasty, velvety with a touch of chocolate and espresso. Barrel Aged Gold Cup is a barrel-aged dream. Bittersweet chocolate and strong coffee flavors melt perfectly against the oaky vanilla bourbon barrels.
The brewery regulars are already clued into this beer's reputation. The last release sold out in a matter of hours.
Old Bust Head Barrel Aged Gold Cup will be available in bottles once again on Saturday, June 3rd, in 16.9 ounce bottles. It will be joined by Barrel Aged Coconut Coffee Gold Cup, another new extremely drool worthy release. Start making some friends in Virginia.
Style: Imperial Stout (Barrel Aged. Bourbon.)
Hops: Cascade, Hallertau MF
Malts: 2 Row, Caramel 80, Carapils, Roasted Barley, Chocolate, 2 Row Black
Availability: 16.9oz Bottles
Latest Return: 6/3/17
10% ABV
Image: Beer Street Journal