Scofflaw Brewing Co.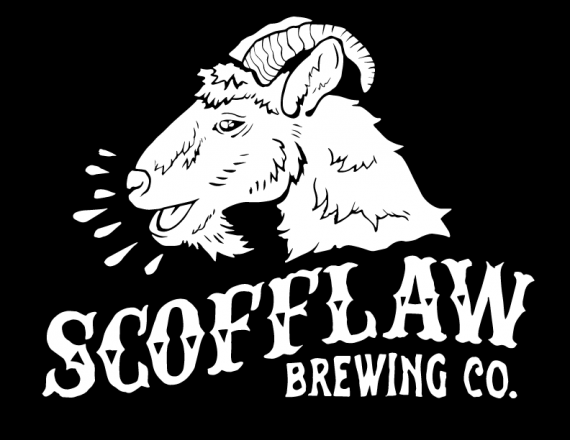 Atlanta, Georgia
Scofflaw GOAT IPA debuts this Thursday, settling a bet from Atlanta's ill-fated Super Bowl.
We all know what happened. Atlanta had a massive lead in this year's Super Bowl, only to see it disappear by the end of the game. The city's breweries made a few Super Bowl bets, most notably SweetWater with Boston Beer Company, and Scofflaw with Shipyard Brewing. SweetWater has already paid up. Now it's Scofflaw's turn.
Scofflaw GOAT IPA is a "New England Style" IPA, chosen because of where the Patriots call home. Scofflaw's brewmaster Travis Herman worked with Shipyard's head brew Joe Rank on the recipe.
The new IPA honors the "Greatest Of All Time" New England Patriots while celebrating the friendly collaboration among these two craft brewers. Deep with never-quit character, G.O.A.T. is an unfiltered IPA with a murky first impression that leads into winning flavors and aromas and a miraculous come-from-behind finish.
Scofflaw GOAT IPA will be available on tap at the Atlanta brewery starting Thursday, March 30th. Scofflaw's Herman sums up his thoughts on the beer: "For spring days when the Atlanta weather is cool,  we'll use lower pressure in our kegs so Patriots fans can hold on to their glass." 
G.O.A.T. indeed.
Style: IPA
Hops: Simcoe, Amarillo, Mosaic
Availability: Draft only, limited.
Debut: 3/30/17
7.9% ABV
Scofflaw Double Basement, a bigger, bolder edition of the brewery's Basement IPA, debuts on draft this weekend.
As Scofflaw's co-founder Matt Shirah mentions, "It's Basement's bigger, badder brother."  He means it when is says there's a "f ton" of juicy hops in Double Basement. The brewery uses nearly 5 pounds of (predominantly Citra) hops per barrel.
While it will only be found on tap this weekend, the brewery tells Beer Street Journal the label is done. It's up to the fans whether it's ready for the big show or not.
Scofflaw Double Basement is currently available as a draft-only offering, starting March 2nd.
Style: Imperial IPA
Hops: Citra
Availability: Draft
Debut: 3/2/17
10.5% ABV
Image: Scofflaw Brewing 
Scofflaw Barrel-Aged Absentium debuts to today at the brewery in Atlanta, Georgia.
It's summer-like day in Atlanta, Georgia and fans are lined up for Barrel-Aged Absentium, the brewery's first bottle release.
The beer is a big imperial stout that has been aging in Buffalo Trace bourbon barrels since the brewery opened in 2016. According to Rhett McLemore, a Beer Street Journal contributor –
It's fantastic. A little sweet but apparently nice and boozy. (it's around 14% ABV)
Scofflaw Barrel-Aged Absentium is a 500 milliliter bottle release, at brewery only.
Style: Imperial Stout (Barrel Aged. Bourbon)
Availability: 500ml Bottles. Limited.
Debut: 1/14/17
13.9% ABV